Our Services - Taxi Siem Reap Travel - Tuk Tuk in Siem Reap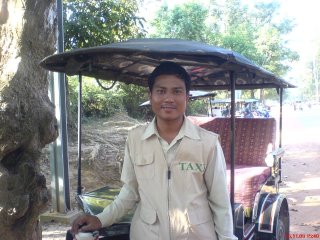 Angkor TUK TUK Travel Driver Provide service like, Pick up at the airport or bus station
No matter how you arrive in Siem Reap, I am happy to offer a pick you up and transfer service to the airport or bus station to get you quickly to your accommodation.
Free Of Charge

Angkor TUK TUK Travel Driver to/from the Siem Reap Airport to your accommodation into Siem Reap City

Free Of Charge

Angkor TUK TUK Travel Driver to/from the river ferry dock at Chong Khneas (Tonle Sap Boat Station)

Free Of Charge

TUK TUK Travel Driver to/from the Siem Reap bus Station.
Reliable Pick Up and Delivery
Cambodia what Cambodians call a Remork or Motor Trailer the foreign tourists like to call a tuk tuk. However, the Khmer tuk tuk is different to the Thai tuk tuk. One, two, three or four-person motorcycle trailers (moto-remorks) have surpassed motorcycle taxis (motodups) as the most popular form of transport. Tuk tuks are covered, offering reasonable protection from sun and rain and popular transport in Siem Reap City.
Siem Reap and the Angkor heritage area are great places to use tuk tuk or taxi. Because the distances between the temples are large ( 7 kilometres to Angkor Wat from down town Siem Reap), it is much easier to have some kind of motor transport. If you ride a bicycle it is difficult to take care of during the day, and you will need lots more energy to go around the entire temple tour circuit. There is not only Angkor Wat to visit. To see some of the best sights you also need see or to climb up and down the temples and mountains. With so many temples for you to visit, going by tuk tuk is much cheaper than if you go by taxi tour or use a bus tour company. The roads here are in good condition, both straight and flat, and the cool breeze from driving along the street is very pleasant (the weather is generally hot here from March to May). It is also easy to use a tuk tuk on the smaller roads where there is little traffic.